Here, tourists sift sand between toes, not knowing salt makes straw of hair. I've always embraced this place though, minus mother's madness. I lived in a town where I could step out of my house, look up to the sky, and watch rockets launch into space. I don't know for what more a child full of wonderment could ask.
I was in second grade in 1986. All the children were excited not only because we were gearing up to watch the Challenger pierce the sky but because, for weeks prior, we learned about Christa McAuliffe. She was a school teacher. My mother is a school teacher! She was exceptional; went on to receive a Master's Degree in education. My mother has a master's degree, too! I was searching for something.
My grandmother, with whom I lived, used to pick me up from school in our wood paneled station wagon – her face full of permanent surgical scars as if a dog had once attacked it. Cancer. When kids stared in innocent horror, I always made a point to ask if they needed to know what time it was or if they'd lost their watch. That's what grammy told me to say.
She was beautiful and had hands full of magic. They kneaded dough every few days for freshly baked bread and crocheted full sized blankets beautifully patterned in pink and white. Her hands never stopped moving. She loved me; she told me so. (Even when mother was mad at me.) She and I made a pact one day that when she died, she'd send me a sign to let me know if heaven really exists.
January 28th finally arrived. The day was a welcomed relief from my usual anxiety, hives itchy. Instead, I was sticky with candy and wriggling in my seat with a different brand of anxiousness. Our teacher lined us up as best she could, led us out the back door of the classroom and into the wide open sky. I swear the grass had never been greener than on that day. We could hear the television inside of our classroom, and someone important began the long awaited count-down. The principal's voice hammered over the P.A. system initiating a collaboration, and we all looked straight into the mouth of the horizon.  Some of us held hands; little darlings while screaming numbers and jumping up and down.
And then we were just screaming. I didn't know precision could unhinge itself.
Her machine cut through air with the confidence of steel. When it separated, my second grade teacher dismissed us for the day. I don't remember how I got home. Grammy hadn't picked me up. I walked through the front door and saw her sitting on the couch, staring at the television – statuesque. She never removed the handkerchief that was covering her disfigured lips and nose. Why aren't her hands moving? My grandmother cried that afternoon, not because cancer blew up in her mouth, but because I had witnessed how things fall apart.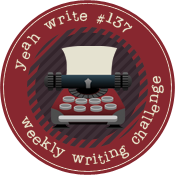 {All links lead to a poem that was written by me and published in 42 Opus}